Search results for 'Mara Demay Lawler'
| | |
| --- | --- |
| View as: Grid List | Sort by |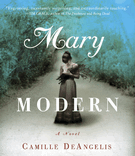 Camille DeAngelis; read by Jenna Lamia with Mara Demay Lawler and Eric Conger
Mary Modern
is a remarkable debut novel that weaves science, love, and longing into a joyous, heartbreaking, and utterly unexpected tale.
Learn More

Stephen Marche; read by Kathleen McInerney (Hannah), David Ledoux (Raymond), Oliver Wyman (Narrator), Mara Demay-Lawler (Jenn), Alan Winson (Rabbi Katz), Rebecca Honig (Deborah), Paula Parker (Crazy Jane), Tara Sands (Lara).
This beautifully written novel raises the question: Does one's religion affect the demands of one's heart?
Learn More
| | |
| --- | --- |
| View as: Grid List | Sort by |
Back to top